Our accommodation comprises of thirteen luxury rooms, each offering its own ambience and character. All rooms can accommodate single or double accommodation.
Family rooms are available on request. All bathrooms have a shower, except room 3 which has a bath & shower. Dinners on request.
*Please take note that we are not pet friendly.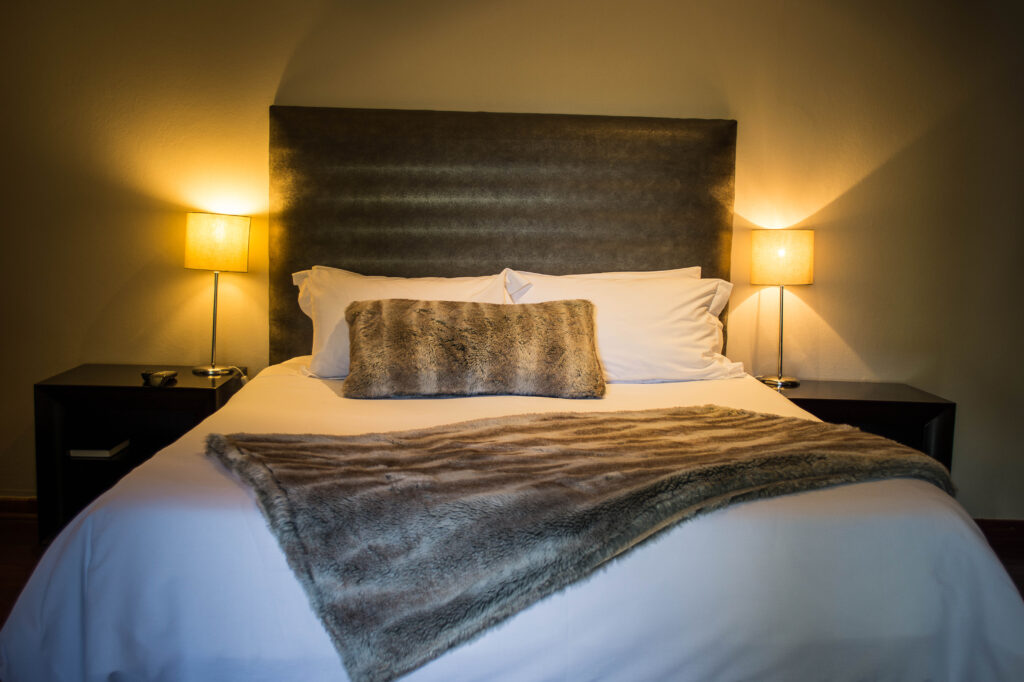 | Room no | Room Type | Bath or shower | Outside door | A/C | Bar fridges | Television & DSTV |
| --- | --- | --- | --- | --- | --- | --- |
| Room 1 | Staff Room | Shower | Yes | Yes | No | Yes |
| Room 2 | Queen size bed | Shower | Yes | Yes | Yes | Yes |
| Room 3 | Queen size bed & sleeper couch (Double) | Shower & Bath | Yes | Yes | Yes | Yes |
| Room 4 | Two single beds | Shower | Yes | Yes | Yes | Yes |
| Room 5 | Two single beds | Shower | Yes | Yes | Yes | Yes |
| Room 6 | Queen size bed | Shower | Yes | Yes | Yes | Yes |
| Room 7 | Queen size bed | Shower | Yes | Yes | Yes | Yes |
| Room 8 | Two single beds | Shower | Yes | Yes | Yes | Yes |
| Room 9 | Queen size bed | Shower | Yes | Yes | Yes | Yes |
| Room 10 | Self catering – Queen size bed | Shower | Yes | Yes | Yes | Yes |
| Room 11 | Self catering – Two Single Beds | Shower | Yes | Yes | Yes | Yes |
| Room 12 | Self catering – Two single beds | Shower | Yes | Yes | Yes | Yes |
| Room 13 | Self catering – Queen size bed | Shower | Yes | Yes | Yes | Yes |